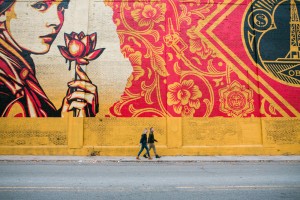 WHY YOU NEED TO STOP SAYING MARRIAGE IS HARD
I had a beautiful realization a little while ago that sank deep into my soul and has since become a pet peeve of mine. Every time I hear someone say the dreaded words, "marriage is hard," I want to reach out and slap them square in the face. Joking. Instead, I'll just deliver this figurative slap-in-the-face so those comments cease immediately and everlastingly. Commencing cyber-rant:
Marriage is hard? First of all, why would we ever say something that could directly reflect negative thoughts or feelings about our spouse? I would feel awful if my husband said that marriage was hard because that would mean that being married to ME is hard. And how is that supposed to make me feel? (Or what about making this comment to someone that's not yet married? "Look what you have to look forward to…" Great. Very Encouraging!)
Second of all, here's my big newsflash: Marriage is not hard. LIFE is hard and relationships are sometimes difficult to maintain. Am I the only one that finds it a liiiiiittle challenging to stay on perfectly good terms 100% of the time with my brother, my mother, my best friend from kindergarten, my college roommate, and–YES–even sometimes my spouse? (Heaven knows the reverse is also true.)
But guess what? That's because relationships–no matter with whom you have them–require work, patience, service, love, time, and an endless amount of attention and effort in order for them to work. Because we can't focus all our time on each of our important relationships, you may notice a strain on some of them from time to time–maybe you feel distanced from one another or perhaps you have a little tiff or argument. And then you get to spend additional time and energy dedicated to that blessed conflict resolution process (regardless of how short or long that process is, there's always a bit of confrontation and communication required) in order to reach a resolution.  It's called work. And, let's face it, friends, relationships–marriage included and especially–are work. But it's all worth it in the end, right?
Thirdly, let's talk about that comment; I always hear people say things like, "Ah, my husband and I disagree about X. Sigh, marriage is so hard…but it's worth it!" If I had a nickel for every time I heard someone say a negative comment about marriage or parenthood directly followed by, "but it's so worth it!" I'd be freaking rich. (But I'd also be miserable because the first comment always negates the "it's so worth it" and it just ends up being toxic. So stop saying that, too.)
To make more sense of the marriage-is-so-hard-but-so-"worth-it" mentality, let's examine what makes a marriage "worth it." It isn't a perfect relationship completely devoid of arguments, disagreements, or hard times, full of only perfect experiences (though those certainly help). The "worth it" part is made up of the in-between moments, the sharing of raw life with someone–the waking up next to your lover, the enjoying a simple meal with your best friend talking about nothing, and planning a future with the person that shares your soul. It's all the little things that, when you're alone, you wish you were with your spouse so you could share those moments with him or her. The laughter, the life lessons learned, the growth, the routines, the memories…that's what makes marriage "worth it." And yes, it's work.
Marriage is hard? Think about this–even if you weren't married and living with your spouse, you would be roommates with your best friend or a sibling and you'd still have little bumps to work through and pet peeves to get over (like them leaving dishes in the sink or socks on the floor). Heck, even living by yourself would be hard and that's because LIFE IS HARD and you'd be lonely!
Next time you're tempted to say, "marriage is hard" just… don't. I repeat, marriage isn't hard; life is hard and relationships require work. Instead of focusing on how "hard" marriage is, why don't we focus on how beautiful it is that we have a spouse with us on the crazy journey of life to keep us company, make things interesting, and to help us be better people. Marriage isn't what's hard–marriage is what gets us through the hard.