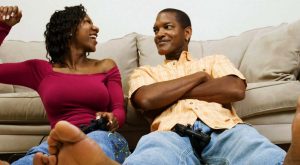 SEX IS FOOD
To Women:
Sex is not all about making children. It's more of getting closer intimately, appreciating and evolving selfless trust for each other. You must be a different woman to your husband each and every time. Seduce him always and creatively, each time spicing up your love life with variety.
Don't always allow your husband to ask for sex as if it is a timetabled concept. Be creative, not predictable. Give him what he wants. If you lose influence over your husband, you stoop helplessly into gross deficit of womanhood and your worth as a woman becomes evidently depleted.
Be part of his plans and be sure to let him into, and get his approval or disapproval as the case maybe for, all your plans in order to always ensure a peaceful home. Next to God and Christ, he is your head/lord; respect and honor him as much as you make certain nothing on earth comes between both of you.
Allow your husband to check in and out as often as time and convenience permits. When a man is sexually satisfied, he is emotionally stable. Stop asking him if it is food. YES, SEX IS FOOD!!! Stop making excuses about being tired simply because you want to evade sex.
As a wife, try to invest in yourself spiritually so you can adequately support him. Pray always for him. Don't allow your husband to provide all your needs; he is not a money-making machine. Remember that iron sharpens iron, so try to reciprocate.
You are meant to support each other spiritually, financially, physically and morally through thick and thin. You are a builder… A wise woman builds her home. Indeed, women need wisdom to build their homes.
Do not be too outspoken. Know when to talk, when to listen and when to be quiet. No matter the differences, exercise patience until the right time in the quiet of your bedroom to gain his unrestrained attention for whispers of your feelings into his ears.
Next to God and Christ, honor and love your husband with all your heart; allow nothing and nobody to come between you, not even the children. Remember, you are not married to the children but to him.
Pamper your husband; he is your first baby. Put his head on your chest and pray for him. Give him unannounced kisses from behind…. Muuuaaaahhhhhh! He is your husband for crying out loud!
Be romantic, it is good for the heart. Some people are not happy that you are happy in that marriage. Prove them wrong. Show them that you love him and he is your crown. Always feel good when you are in his company.
Don't look 50 while you're still under 40. Looking older than your age is not a bonus to you. It puts men off. Always keep fit regardless of your age or body.
To Men:
Do not take a woman who does all these for granted!
Satisfy your woman's needs morally, emotionally and financially. Discover how to make her happy. Pamper her, pray for her, cherish her, love her, support her. Empower her and make her feel wanted like your precious jewel – which is what she truly is!
Send this to all singles as well as married women and men. Save your home, indeed any home, and glorify God.