HOW TO COPE WHEN YOUR SPOUSE IS DRIVING YOU CRAZY
By Joanna Teigen
In the past, every day held exciting discoveries about the one whose ring you now wear on your finger.
His ambition and strong work ethic filled you with admiration. Her free spirit and spontaneity brought fun and excitement to your life. His casual, easygoing manner put you at ease and set you free to be yourself. Her beauty and style captivated your attention and made you proud to walk by her side.
Yet as you settled into life as a married couple, the qualities that attracted you now create friction and frustration between you.
You feel stuck with a driven workaholic who left you in the dust of his career. Her lack of structure and planning leaves you frazzled. He wears the same old college hoodie every weekend and ignores the dirty dishes piling up in the sink. She blows the budget on shoes and turns away your kisses to protect her makeup.
Yesterday's "pluses" feel like minuses as your spouse's habits and personality drive you crazy.
How do you cope with negative thoughts and feelings toward your husband or wife? Is it possible to feel happy and thankful once more?
Here are five ways to break out of the rut of resentment you feel in your marriage.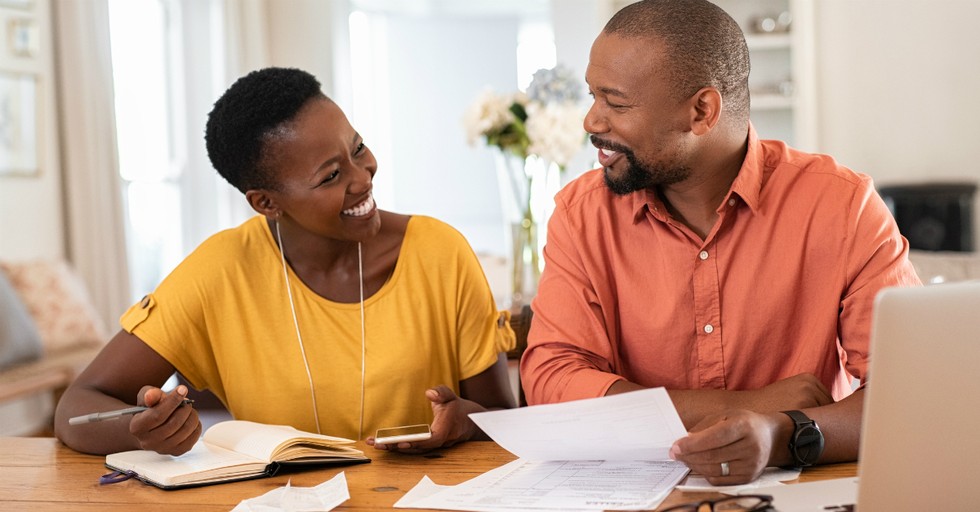 1. Choose to Give Thanks
When your frustrations reach their breaking point, all you can see are your losses.
You wonder, Why is my spouse so inconsiderate? Do my feelings matter at all? Why do I have to give more than I get from this relationship? How can I put up with this for one more day?
Every comment, habit, and choice feels annoying at best and like a cruel betrayal at its worst. Convinced your spouse is determined to make you miserable, you pull away and put walls around your heart.
Instead, take steps to choose gratitude today.
First, consider your spouse from other points of view. His boss values his talent, diligence, and cooperation as a team player. Your kids find comfort in her listening ear. He's gracious to his overbearing in-laws.
She's the first one to step up and help a neighbor. He is always steady in a crisis. She can multitask without breaking a sweat.
By searching for the good in your partner, you refresh your gratitude and remember why you're better together than you'd ever be alone.
Next, speak a word of thanks to your husband or wife. Let them know you appreciate their help.
You see their strengths. You value the wisdom and creative thinking they bring to the table. Expressing your gratitude and admiration will interrupt the cycle of negativity in your home.
Our brains are primed to look for more examples of what we already believe. So the more gratitude you can be intentional about having toward your spouse, the easier gratitude will be to come by.
This is a beautiful and important practice to have, even when your spouse isn't driving you crazy!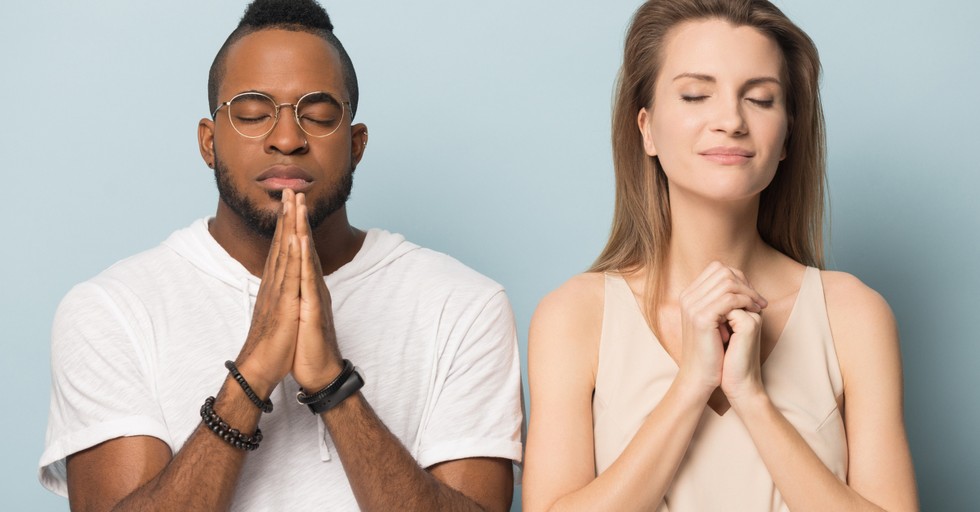 2. Pray for Your Partner
In your struggle with your spouse, not every complaint is imaginary. His table manners might truly be lacking. Her phone might claim too much of her attention. He might drive too fast, and she may show up late to every appointment.
And, it's impossible to hide bad attitudes or character weaknesses from each other. You might recognize real lapses of integrity and self-control in your spouse that chip away at your trust and respect.
But if we all let these imperfections drive out the love in our hearts that we have for our spouses, no marriage could survive, because no one is perfect!
Before your spouse's failings do lasting harm to your relationship, take them to prayer. Claim God's promises to finish the work he began in your husband's life (Philippians 1:6).
Pray that your wife's "whole spirit, soul and body be kept blameless" before Jesus. (1 Thessalonians 5:23) Ask for the Spirit to bear his fruit of peace and kindness, goodness and self-control in your spouse's life (Galatians 5:22-23).
Place your loved one in God's hands, trusting he will do whatever work is needed in their life.
Pray, too, for your own heart and attitude. Ask for a cheerful spirit to see the humor in your situation. Pray for compassion for the challenges your spouse is facing today.
Seek God for wisdom to know when to voice your frustrations and when to quietly let them go. Ask the Father to fill you with his love for your spouse so you can cherish them once more.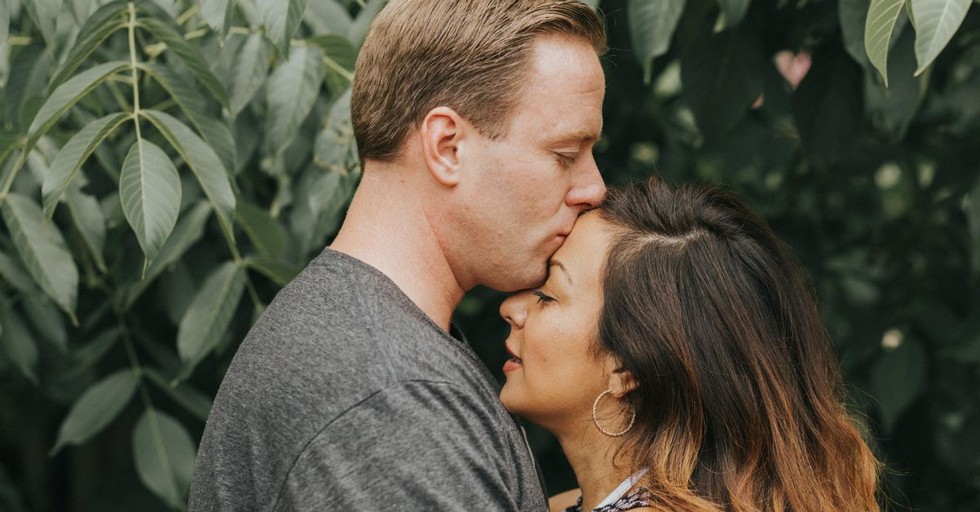 3. Look at Your Spouse through God's Eyes
When I look at my husband, I see a father of five kids. I see an author, a grad-school student, and a volunteer.
In front of me is a man who loves a freshly mowed lawn. A hot cup of coffee and a good book. Early morning runs and Christmas music in October. I also see his insecurities, his nervous habits, and the less-than-pretty sides of his human nature.
If I define my husband by what I see, I'll forget how truly unique and valuable he truly is.
This is why over and over in Scripture you and I are challenged to view others through the eyes of Christ. God says your spouse is
The One who created your spouse and mine has chosen them, accepts them, helps and protects them, and remains with them every moment. God is able to give us a heart like his so we can love and honor them too.
As you change your perspective to see your spouse as God's own child, your relationship will be transformed.
If you're struggling to believe these things about your spouse, there's a chance you might be having a hard time believing them about yourself. Take some time to look inward and accept the grace that God so freely gives you, so that you can pass it on to your spouse in turn.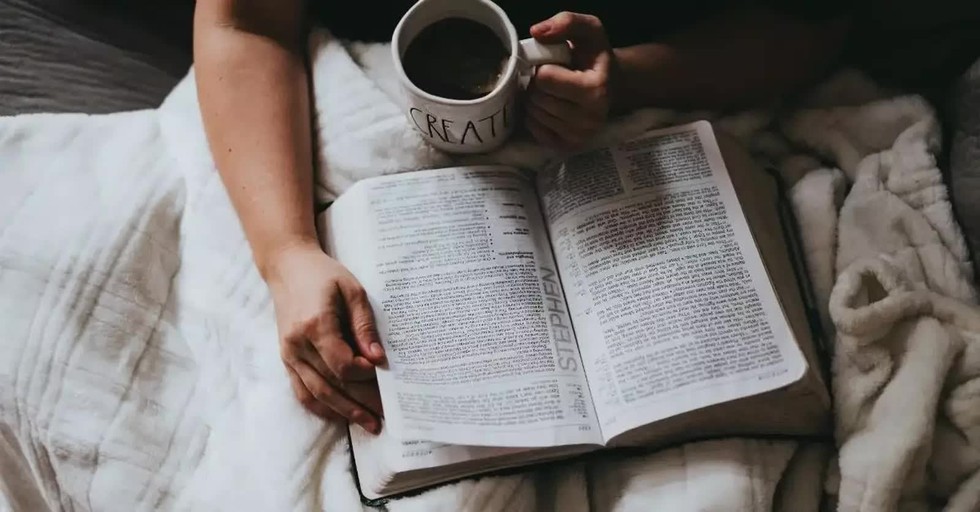 4. Look in the Mirror
When our spouse is driving us crazy, Jesus' question in Matthew 7:3 sends us straight to the mirror to look at our reflection: "Why do you look at the speck of sawdust in your brother's [or sister's] eye and pay no attention to the plank in your own eye?"
By focusing on our partner's irritating habits and errors, we neglect the heart-work that's needed to deal with our own failings and attitudes.
As the "doctor" of our souls, God is ready and waiting to mend what's broken in your life. You can pray for him to give you a thorough examination, asking him to
"Search me, God, and know my heart; test me and know my anxious thoughts. See if there is any offensive way in me, and lead me in the way everlasting." Psalm 139:23-24
As you humble yourself to see how you need to change, you'll be able to patiently bear with your partner in their own growth journey.
God will soften your heart so you can forgive and let go of the past. You'll be able to offer the same grace and kindness you've received for your sin.
Instead of standing as a critic and judge, you'll be the supportive, loving partner your spouse needs most of all.
Acknowledging how far you fall and all of your imperfections will drive your gratitude that your spouse still loves you, despite it all. And you'll feel more motivated to return that love.
This doesn't mean beating yourself up, but simply realizing that we're all human and we're all trying our best.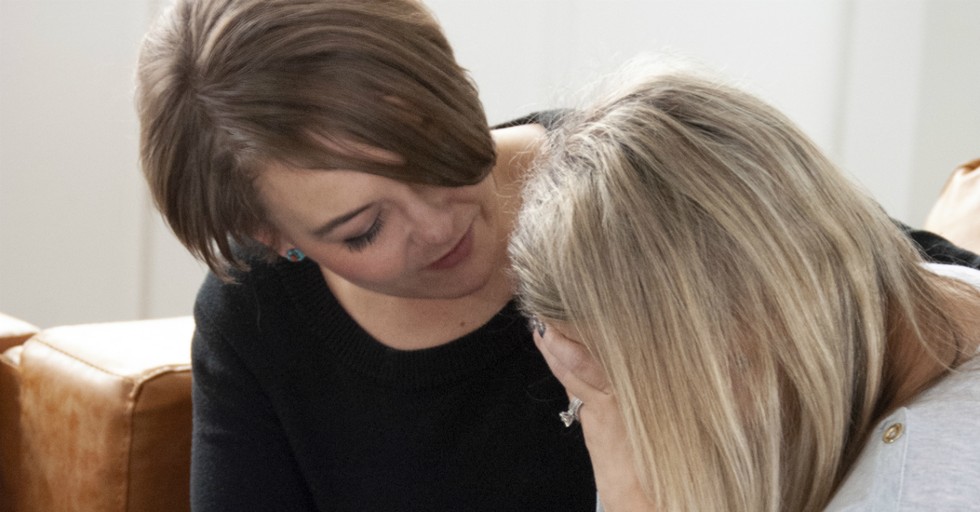 5. Phone a Friend
You and I know our calling as husbands and wives.
As a godly spouse, we offer grace and forgiveness. Respectful words and helpful actions. Loyalty and faithfulness for life. Servant attitudes and physical affection.
Yet honestly, loving one another like Christ is simply impossible in our own strength. That is why God never intended for us to try and go it alone.
When you're ready to explode in anger, burst into tears, or walk right out the door, reach out to someone you trust. Find a mature believer who has overcome obstacles to happiness in his or her own relationship.
If your spirit is wounded and bitterness is taking root in your heart, "confess your sins to each other and pray for each other so that you may be healed" (James 5:16).
Build regular time into your schedule to connect and share your struggles. Take hold of God's wise counsel to "consider how we may spur one another on toward love and good deeds, not giving up meeting together, as some are in the habit of doing, but encouraging one another—and all the more as you see the Day approaching" (Hebrews 10:24-25).
Inviting a fresh perspective and caring accountability into your life is a powerful step to grow in grace toward your spouse.
If your spouse is driving you up a wall these days, take heart. You're certainly not the first couple that God has walked through this season. He will grow both you and your spouse through it, and give you beautiful opportunities to grow in your unconditional love, just like his love for us.