30 BAD RELATIONSHIP HABITS YOU DESPERATELY NEED TO LOSE BY AGE 30
Before you hit the big 3-0, here's what to give the ole heave-ho.
Being an overgrown child is not sexy. Here are some dating habits to break by the time you turn 30, gathered from our wise staff:
30. Dating. Cue uncomfortable laughter.
Sleeping on a futon.
28. Drinking until you're blackout drunk.

Wearing dresses that don't properly cover your a**.

Staying in hostels, especially in dorm rooms with strangers.

Obsessing over your high school sweetheart.

Obsessing over your college sweetheart.

Using the "f-bomb" every 5 seconds.
22. Wearing your makeup to bed. 
Staying out all night.

Making out with 21-year-olds at parties.

Living with your parents.

Dating someone who lives with their parents. (Although some people make a convincing case for the opposite.)

Borrowing money from your parents to take someone on a date.
16. Having multiple one-night stands.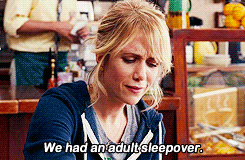 14. Making out with your BFFs at bars for attention.
13. Making out with your 
boyfriend
 at bars for attention.
Carrying a torch for anyone you haven't seen in the last five years.

Declaring an entire gender "all jerks."
10. Skipping regular gyno exams. 
9. Crushing on Justin Bieber.
Expecting a man/knight in shining armor to swoop in and save her.
Using Tinder to pick up guys.
6. Expecting a man to do all the wooing.
And a few, courtesy of Twitter:
5. @GiaKaleena You shouldn't date anyone under 25.
4. @gfernandez1989 Going to nightclubs every weekend and getting drunk. Have some morals and responsibilities.
3. @MacTalian Saying: "I'll settle down when I get older."
2. @nicoletteee_x Dating teenage boys.
1. @GagaxJudas Clubbing at 18+ clubs.