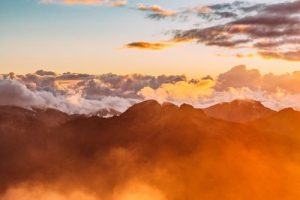 16 QUOTES THAT SHOW US LIFE FROM A DIFFERENT PERSPECTIVE
Angel Chernoff
Let me share three quick stories and some perspective-shifting life lessons with you…
"On my nursing shift at the hospital this evening, I was forced into a moment of perspective when I got off my phone, utterly flustered, after having an argument with my husband, and my eight-year-old patient who's dying of leukemia asked me if I was OK."
"Today is the 10-year anniversary of the day I had planned on ending my own life.  It's also the 10-year anniversary of the day I found out I was pregnant with my now 9-year-old son.  He's the reason I changed my mind.  And he is so worth it!  But most importantly, I now realize I am worth it too."
"This afternoon I learned that the lady who I thought was a ridiculously young mom of the two twin girls I have in my 5th grade math class is actually their 25-year-old half sister.  It turns out, her parents got divorced and her mom had the twins with another man.  Then 4 years ago her mom and the father of the twins died in a car accident.  The 25-year-old daughter, who was only 21 at the time, took over as their legal guardian and has been raising them ever since."
These stories have been transcribed with permission from coaching sessions we've recently conducted with three new course students.  And if there's one thing these students' stories have it common, it's perspective.
What we see greatly depends on how we look at it.
The truth is, our perspective on life comes from the psychological cage we've been held captive in.  A cage created by…
A difficult past
A sheltered life
Social influence
Pop-culture and mass-media stereotyping
And our perspective only changes when we consciously and gradually work to free our minds.
The quotes below (taken from our book and blog archive) are simple reminders I personally read and repeat to myself on a regular basis to keep my mind uncaged and my perspective wide open.  When I shared them with the three students mentioned above, they all told me they appreciated the extra perspective.  Perhaps you will as well.
Happiness escapes from those who refuse to see the good in what they have.  When life gives you every reason to be negative, think positive.  Let go of what you think your life is supposed to be like right now and sincerely appreciate it for everything that it is.
The richest person isn't the one who has the most, but the one who needs the least.  Wealth is a mindset.  Want less and appreciate more today.  Be thankful for your life.  For your health, your family, your friends, and your home.  Many people don't have these things. (Marc and I discuss this in more detail in the "Simplicity" chapter of 1,000 Little Things Happy, Successful People Do Differently.)
It takes courage to grow and become who you really are.  Don't fear change.  You may lose something good, but you may also gain something great.
Most of your fears are much bigger in your mind than they are in reality. You'll see this for yourself as soon as you face them.
If you're lucky enough to have two good options, always go with the one that scares you the most, because that's the one that is going to help you grow.
Don't stress about the closed doors behind you.  New doors are opening every moment and you will see them if you keep stepping forward.  And as you're stepping, also keep in mind that we often waste too much of today by worrying about tomorrow. Just be present.  Tomorrow will reveal itself exactly as it should.
Every difficult situation can be an excuse for poor performance or an opportunity for excellence, depending on the perspective you choose.
Even when it's tough, wear a smile anyway.  Smiling doesn't always mean you are happy, sometimes it simply means you are strong.  And YOU ARE.
Growth is painful.  Change is painful.  But in the end, nothing is as painful as staying stuck somewhere you do not belong.  It's always better to be exhausted from meaningful work than to be tired of doing nothing.
Appreciate the gift of being able to work hard for what you want most.  And remember that nothing is really "work" unless you tell yourself that you would rather be doing something else.
Do what you have to do, but leave space too.  Be flexible.  Don't overbook your life with rigid plans.  Sometimes great moments happen unplanned and big regrets happen by not reaching exactly what was planned.
Instead of getting angry over the words of others, choose to listen, be mindful, and grow stronger one way or another, because of them. (Marc and I build mindful communication rituals with our students in the "Love and Relationships" module of Getting Back to Happy.)
Life doesn't always give you the people you want, it gives you the people you need… to learn, to grow, and to fall in love.
The strongest among us aren't those who show strength you can see, but those who have won incredible inner battles you know nothing about.  So be kind.  You can't always see people's pain, but they can always feel your kindness.  Being kind to people is a peaceful way to live, and a beautiful legacy to leave behind.
Three things ultimately define you: Your patience when you have nothing, your attitude when you have everything, and who you help whenever you are able.
Be humble.  Be teachable.  The world is bigger than your view of the world.  There's always room for a new idea, a new step, a new perspective…a new beginning.
Your turn…
Please share this post with others who you think will benefit from it, and also share your thoughts with us in the comments section below.  If you're up to it, I'd love it if you shared an additional quote, reminder, or strategy that helps you look at life from a different perspective.