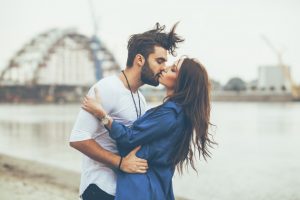 16 LOVE QUOTES TO HELP YOU THROUGH THE HARD TIMES IN YOUR MARRIAGE
Worried that there may be too much conflict in your marriage? Here's how to resolve it with ease.
Your marriage can be saved with this one tip: calm down.
A 2013 study from the University of California-Berkeley and Northwestern University found that couples who argue too much aren't going to have the best marriages. But for those who want to save their marriage, being the first partner to calm down and not engage in the argument anymore could actually make your relationship easier.
"Every couple argues, and some conflict may not be bad for building a relationship," according to Time magazine. "But when spats become heated, that's when blame, criticism and name-calling spew forth, sometimes unintentionally. And too much of that isn't as good for marital happiness, as plenty of research shows."
To find this, researchers reviewed video tapes of 80 husbands and wives, who were in their 50s and 60s, talking and arguing with each other. They found that a couple's happiness was often tied to which partner calmed down first. When women calmed down first, the relationship would be happier, whereas it wasn't the same for men who relaxed first.
"Women are presumed to be better at emotions," the study's lead author Lian Bloch, an assistant professor at the Pacific Graduate School of Psychology-Stanford Consortium, told Time magazine. "Both are looking to her as the emotional thermometer of how things are going. Women take more responsibility for emotional harmony in a marriage."
Of course, it's not always easy for partners to get over a fight so easily.
In fact, as UCLA psychologists explained in a 2012 study, some married couples feel the only way they can be fully committed to their relationship is to acknowledge there are problems that need fixing.
"This," senior study author Thomas Bradbury said, "is the other kind of commitment: The difference between 'I like this relationship and I'm committed to it' and 'I'm committed to doing what it takes to make this relationship work.' When you and your partner are struggling a bit, are you going to do what's difficult when you don't want to? At 2 a.m., are you going to feed the baby?"
And that, the psychologists said, can make marriage really tough. Researcher Benjamin Karney, a professor of psychology and co-director of the Relationship Institute at UCLA, said in a press release that commitment means knowing partners don't always get their way.
"It means, do what it takes to make the relationship successful. That's what this research is saying. That's what commitment really means," Karney said. "In a long-term relationship, both parties cannot always get their way."
But learning to compromise with your partner isn't the only thing that can help your relationship last. When the going gets tough, you may want to seek answers in a number of places, including advice from others who have gone through similar experiences.
Here are 16 quotes for when your marriage gets tough.
"Marriage always demands the greatest understanding of the art of insincerity possible between two human beings." – Vicki Baum
"Marriage should be a duet – when one sings, the other claps." – Joe Murray
"A successful marriage requires falling in love many times, always with the same person." – Mignon McLaughlin
"When marrying, ask yourself this question: Do you believe that you will be able to converse well with this person into your old age? Everything else in marriage is transitory." – Friedrich Nietzsche
"A happy marriage is a long conversation which always seems too short." – Andre Maurois
"The secret of a happy marriage remains a secret." – Henny Youngman
"When you make the sacrifice in marriage, you're sacrificing not to each other but to unity in a relationship." – Joseph Campbell
"Marriage is an adventure, like going to war." – Gilbert K. Chesterton
"Marriage is neither heaven nor hell, it is simply purgatory." – Abraham Lincoln
"All married couples should learn the art of battle as they should learn the art of making love. Good battle is objective and honest – never vicious or cruel. Good battle is healthy and constructive, and brings to a marriage the principles of equal partnership." – Ann Landers
"Marriage is an attempt to solve problems together which you didn't even have when you were on your own." – Eddie Cantor
"When a marriage works, nothing on earth can take its place." – Helen Gahagan
"Every good relationship, especially marriage, is based on respect. If it's not based on respect, nothing that appears to be good will last very long." – Amy Grant
"All that a husband or wife really wants is to be pitied a little, praised a little and appreciated a little." – Oliver Goldsmith
"A successful marriage is an edifice that must be rebuilt every day." – Andre Maurois
"A journey is like marriage. The certain way to be wrong is to think you control it." – John Steinbeck